MEDI-BOOK Education Edition
Incident Recording
What is MEDI-BOOK Education Edition?
MEDI-BOOK is an incident recording and reporting software tool designed specifically with schools & nurseries in mind, enabling you to effortlessly record incidents and illnesses which occur in a timely and error-free manner.
Senior leadership teams can stay on top of compliance by utilising the dashboard tools to efficiently oversee, investigate and review how all incidents are being dealt with.
MEDI-BOOK is helping schools and educational organisations to simplify how they record accidents and illnesses, improving reporting, saving valuable time and boosting safeguarding of vulnerable students by detecting trends in accidents.
With MEDI-BOOK you can manage all aspects of any accident or illness in one easy to use online portal including adding interactions to precious record. From simple aches, grazes to broken bones, information can be recorded quickly and accurately. Reports can then be securely sent to parents or carers, with redacted information and password secured files.
Our extensive online help and getting started guides will help you to personalise and configure MEDI-BOOK with ease, so you are capturing the information you want in no time at all.
Onboarding is a quick and hassle-free process; from the moment an order is placed we can have your instance setup and configured ready to populate with your MIS data within a matter of hours.
Fully integrated with your MIS so that student, employee and contact related data is always up to date and in-sync with your MIS system.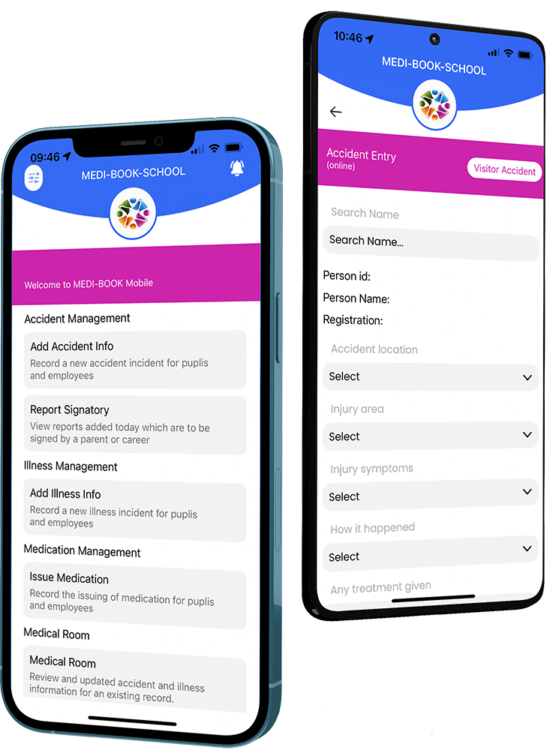 Incident Recording
Using our simple forms, you are able to quickly record the key information of any accidents that take place on or off the premises.
Illness Recording
The illness management module enables schools, nurseries and after-school clubs to record illnesses which occur for employees, students and visitors.
Mobile Applications Supported
MEDI-BOOK now includes a native iOS and Android applications. Using the new applications you are able to capture accident and illness information, quickly whether you have an internet connection or not.
Medical Room
The Medical Room module enables you to record additional information relating to an incident. You can add additional interactions and treatments given, as well as building up a history of all actions performed to aid the student, staff member or visitor.
Reporting
MEDI-BOOK comes with an easily understandable reporting system. This enables you to quickly produce standard outputs at the click of a button. All reports in the system allow you to display the current days information and also report on a date range, which is down to the minute, ensuring that all information in the system is accessible.
Parent Portal
MEDI-BOOK comes equipped with iOS and Android applications enabling parents/carer to have secure access to view all the accident reports which have been reported for their children.
School Management System Integration
MEDI-BOOK supports MIS Integration using the Wonde platform.
Supported systems include SIMS, Schoolpad, Bromcom, ScholarPack, RM Integris, Furlong, Arbor, Progresso, CMIS, Engage, iSAMS, WCBS and PA.